Chanel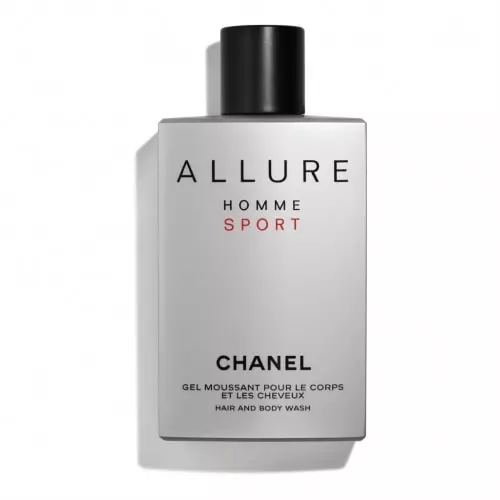 Chanel
ALLURE HOMME SPORT
SHOWER GEL
Description
Fragrance
Ritual of care
The fresh and enveloping notes of ALLURE HOMME SPORT in a gently cleansing shower gel. A generous lather that leaves the skin delicately fragranced.
A man who loves life in the open air, recreational sports and the great outdoors. He fuels his passion for physical exercise, on a constant quest for movement, energy and well-being.

The sparkling freshness of Italian Mandarin blends into the clean, intense notes of Cedar. The enveloping notes of White Musks produce a deep and intense trail.
La fraîcheur pétillante de la mandarine d'Italie ouvre sur les notes franches et intenses du bois de cèdre. Les notes enveloppantes de muscs blancs offrent un sillage intense et profond.
The fresh and enveloping notes of the ALLURE HOMME SPORT fragrance are expressed in a full range of shaving and body products. The shower gel can be used for the hair and body. Ideal for everyday use, it prolongs the lingering notes of the fragrance over the entire body.
Read more
Read less
Chanel recommends you
Chanel

3145891236200

61,89 €

61.89

Chanel

3145891230703

55,26 €

55.26

Temporarily sold outVictim of his own success...

View product

Chanel

3145891239300

29,30 €

29.30