Chanel
Chanel
LE CORRECTEUR DE CHANEL
LONGWEAR COLOUR CORRECTOR
Description
Application tip
The long-wear colour correctors conceal and correct colour imperfections to reveal a perfectly even complexion.
Ideal for matte and dark skin, the Abricot corrector reduces the appearance of dark spots and dark circles, and corrects hyperpigmentation.
Ideal for fair skin, the Vert corrector reduces the appearance of redness. It masks the visibility of blood vessels and counterbalances red areas.
Ideal for fair skin, the Rose corrector illuminates dull areas and brightens the eyes
A non-occlusive and sebum-resistant film-forming agent gives the concealer 8-hour hold.
A natural origin mineral reflects the light and creates a blurring effect that smoothes all imperfections.
An energizing brown seaweed derivative revives dull complexions and delivers radiance for a fresh, rested look.
Moisturizing agents ensure comfortable, supple skin.
Colour pigments specifically chosen to correct skin tone imperfections, based on the principle of complementary colours.
Les correcteurs de couleur peuvent s'appliquer avant un produit de teint ou en légères retouches sur les imperfections au cours de la journée.

Appliquer le correcteur de couleur adapté à votre type de peau par petites touches à l'aide de l'applicateur dédié sur le contour de l'œil et sur les zones du teint qui présentent des irrégularités colorielles (tâches, rougeurs). Estomper délicatement du bout des doigts, par petits tapotements.

Pour une application plus experte, utiliser la face plate du PINCEAU DUO CORRECTEUR RÉTRACTABLE pour appliquer la texture et la face étoffée pour l'estomper.
Read more
Read less
AS A GIFT
Your Yes I Am cap*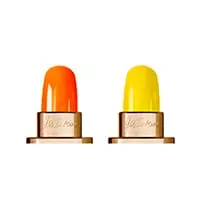 *from the purchase of a Yes I Am Red, Fabulous or Glorious, within the limit of available stocks.